South Africa Transnet Railway
2000kVA Railway Traction Transformer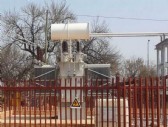 Rated power: 2000 kVA
Rated voltage: 11/25 kV
Rated current: 181.8/80 A
Rated frequency: 50 Hz
Number of phases: 1
Tap range: 25+6×2.5% kV
Connection symbol: Ii0
Cooling method : ONAN
Temperature class of insulation: A
Insulation level:
HV line terminal LI/AC 250/70 kV
LV line terminal LI/AC 95/35 kV



Transnet SOC Ltd is a large South African rail, port and pipeline company, headquartered in the Carlton Centre in Johannesburg.[2]It was formed as a limited company on 1 April 1990. A majority of the company's stock is owned by the Department of Public Enterprises, or DPE, of the South African government. The company was formed by restructuring into business units the operations ofSouth African Railways and Harbours and other existing operations and products.

Railway traction transformer supplied by CTSS is well installed and reliablly operated.